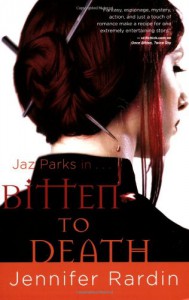 Another good book of this serie but I was obligated to give only 3 stars.
I miss a lot some Jaz Parks characters that don't appears on this book, and that was really a pity
(and I believe that anyone how is following this serie will agree)
Some technical observations of this book:
1)
It's only Jaz (obviously, as she still is the only narrator), Vayl and Dave on this story.
2)
The story is very good! Jennifer Rardin is really a amazing writer and this book is the prove. It's a tough task to create always something new and interesting, and she did it for the 4# time, so thumbs up to her imagination.
3)
Finally if you want more romantic scenes (as I was trilled to see) you will get it... I can give more details but Jaz and Vayl relationship will (
FINALLY
) get more spicy.
But don't delude yourself! It's a urban-fantasy book, so don't search for long and hot scenes as a paranormal romance has!
So, I'm giving 3 stars, and almost gave more, but I really think that put only 3 of the 6 main characters of this serie was a huge mistake... I hope the next book of this serie will show all of them together again!